The Background Story! As you may know, the Dalai Lama and 100,000 Tibetans fled Tibet in 1959 following an uprising in the capital of Lhasa against occupational forces from China. Over a period of nearly 30 years these Tibetan refugees re-settled and organized themselves into a new Government-in-Exile and into communities in India and Nepal.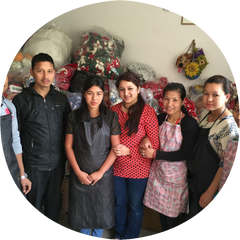 To better coordinate development activities, an interdepartmental body called the "Planning Council" was created within the Tibetan Government-in-Exile, based in Dharamsala in northern India, also the home of the Dalai Lama. 
Since 1990,  dZi Inc has been working with Tibetan exile community artisans to increase economic opportunity for Tibetan artisans in India and Nepal by selling their products to American consumers.
Tibetan artisan creations include fanciful 3 inch diameter hand-glazed ceramic Incense burners, handmade paper wrapped Tibetan incense bundles, and Paper Prayer Flag Garlands.
 Authentic cloth prayer flags printed on hand-carved woodblocks are specially made for dZi by The Gu-Chu-Sum (9-10-3) Movement of Tibet, established in 1991 and based in Dharamsala, India. Gu-Chu-Sum was first organized by ex-political prisoners from the Tibetan freedom movement; monks, nuns and lay people who had escaped from Tibet due to political persecution. Its purpose is to provide employment and support to Tibetan refugees needing help in India, and to educate about human rights abuses in Tibet. You can try to visit www.gu-chu-sum.org, but the Chinese Government regularly sabotage their site!
Save
Save
Save
Save
Save
Save
Save
Save
Save
Save
Save
Leave a comment